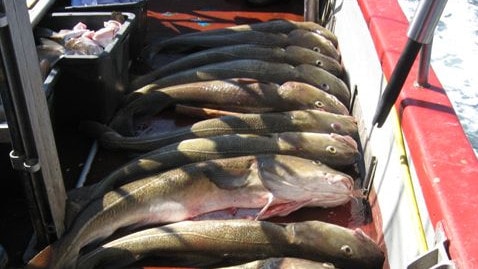 Rederiet Gule Rev
Angling tours to the Yellow Reef.
Join one of the Yellow Reef Co.'s 4 boats on a fishing trip out to the Yellow Reef.
With many years of experience in angling and experienced skippers, you are sure to have a good experience.
Several Danish and German records have been caught on our boats, and fish over 10 kg are often caught.
The Yellow Reef lies between the Danish west coast and Norway's south-facing coast. The reef is approx. 10 miles wide and 65 miles long.
Fishing is mostly at depths of 35-70 meters, but some of the wrecks may be 100-120 meters deep.
Cod is the main catch, but you can also catch common ling, saithe, angler fish, catfish and halibut.
The boats are located in pool 5 or at pier 5. Just opposite: Fibigersgade 10, 7730 Hanstholm.
We set sail with max. 12 people and a min. of 8 people.
Filleting of the fish can be arranged
Our boats: Mølboen, Yellow Reef, Heidi and Bonito sail from Hanstholm to the Yellow Reef every day from mid-March until the end of October.
Wreck tours and other special tours can be arranged by appointment.
Booking is required - online booking - www.gule-rev.dk
or call tel. +45 40 75 53 94
Contact us if you require accommodation in the area.
Opening hours & dates:
7 days a week. March - October
Tips before starting your tour:
If you are worried about getting seasick, then we recommend that you take a seasickness tablet 3-4 hours before the trip or use a patch. It can spoil your day if you become seasick, during the trip.
Wear sensible outdoor clothes and bring rain clothes.
Most fishing is done with 200-500g jigs as well as snood lines or swim squids. Use a good jig rod, a multi-wheel and a 0.60 nylon line or 0.35-0.45 spun line.
If this is your first time on the reef and you do not wish to invest in expensive gear, then you can rent gear onboard the boats - jigs can also be purchased onboard.
Everyone between the ages of 18 and 65 must have a current fishing pass. All boats have day passes for sale onboard. If you need a week or annual card, then please contact us before your trip. You can also buy them online at www.fisketegn.dk
Departures:
We depart every day at 5am with Mølboen and Heidi and at 6am with Yellow Reef and Bonito - unless otherwise agreed.
The trip lasts approx. 11 hours.
Find us on Facebook